The World is Ending and Maybe That's Kinda Hot
(5W, 3M) a drunk kinda adaptation of "The Decameron" by Boccaccio
4 gentlewomen and 3 gentleman gather in a generic meadow in Italy to hang and tell stories and hit on each other. They are like all kinda freaked/not in the bestt space though cause they just escaped the Black Plague, like no big deal cause they're safe now…or are they??
Development: Less Than Rent Theater, The Tank.
I wanttt a Unicorn Frappe!!!!
(1M, 2W) an angsty girly comedy
Jenny's engaged! OMG! And she's planning a Starbucks-themed wedding and can have as many Unicorn Frappes as she wants!!! But wait…for some reason a REAL prince with a REAL unicorn keeps appearing who kinda looks like her fiancé but is nicer than him and kindaa handsome and richer?? Who will Jenny pick?
Development: INKubator Writer's Group through Art House Productions.
Gurl, Hang up the Phone!
(3W, 4M) a trashy horror comedy
Danica's parents have gone missing so she invites her friends to their cabin for the weekend! They all think it's gunna be fun but for some reason some dude keeps calling them, there are all these vids with chicks falling into wells and they potentially could be getting stalked… But at least the guy on the phone seems so nice and they actually get into some deep topics like global warming and the point of wet t-shirt contests!
Development: Wide Eyed production's Wink Series, Candy 4 Breakfast Theater Collective
This is How You Got Me Naked
(2W, 2M) a sexxxxy full length party play!
It's the "Dress to Get laid" Party: Jackie is dressed as a sexy trash bag aka looking good, and ready to hit on her sexy male dancer friend so he will LOVE her so hard he can't even feel his own body!! Is Jackie destined to be another tragic tale about the perils of hookup culture or will she be the GF of an actual DANCER who is hot? ;)
Development: Ohio MFA playwrights workshop
Production: Ohio University MFA workshop production (thesis play)
Are you Ready To Get PAMPERED!?
(6W, 1M) a perky camp play!!!!
Hester got the girliest job of all time, she is a drama counselor at "Lake Pampered" a fancy all girls summer camp. Only problem is, Hester is pretty weird. In this goofy camp play in conversation with movies like "Meatballs" and "Wet hot American Summer", Hester struggles to find her own in a pampered, prideful, popular and sexy world.
Development: Last Frontier Theater Conference Playlab, Less Than Rent Theater, Wide Eyed Productions "Winks" reading series (NYC), Uncorseted Series with Off With Her Head Productions and DIrty Blondes Beta Series.
Karate Hottie
(3W, 1M) a feisty full length play
When 16 year old, Dart fell in love with her sexy, manly karate instructor she didn't know she would engage in something that promises to be way more complicated and way more wrong and way more HOT than she ever thought it could be ;)
Development: Ohio University Playwriting MFA 21st Annual Seabury Quinn Play Festival, West of 10th Reading Series.
Awards: Semi-finalist for ATHE Excellence in Playwriting Award- The award honors a new play marked by sophisticated and nuanced storytelling, with the potential to make a major artistic impact on contemporary theatre.
Shut Up, I'm on a Diet!
(2W, 2M) a super feminine full length play
When Tess, a hip tortured teen, gets sent to a sketchy underwater themed eating disorder treatment center, the only thing she wants is to escape! With intense pressure from her overbearing needy manly father to get better, can Tess get better and actually take control of her life or will she do something devious and seduce a random kinda douchey guy who works at the center in order to get a ticket out of thereeee?
Development: Ohio University Seabury Quinn Playwrights Festival, PlayGround Experiment in NYC and Women's Theater Festival "Occupy the Stage" Festival.
IndyWeek write up of the "Occuy the Stage" WTF reading:
Shut Up, I'm On A Diet!: Under Lorelei Lemon's direction, playwright Catherine Weingarten's irreverent, cinematic farce seemed like a feminist twist on Wes Anderson. Conniving but charming California teen Tess (Anna Broadway) is driven to a sketchy eating-disorder clinic by her equally sketchy dad (a convincing Allan Maule). The deft social satire hits its bull's-eyestrendy tech and pop psychology as Tess manipulates a clueless intern (a rewarding Matthew Tucker) and her straitlaced roomie (a believable Rosemary Takacs).
This Car Trip Suckss
(1W, 1M) a super angsty-ish road trip play (so much angst, so little time :p)
In this road trip friendly dark comedy, we watch Tess and her Dad on the way to an eating disorder treatment center to drop Tess off. Two people in a car driving somewhere no one wants to go to, about to deal with a disorder neither of them completely understands.
Development: Piper Theater Productions Emerging Artist Workshop Series, June 2016.
Awards: Semi-finalist for Steinhardt YA Play Development series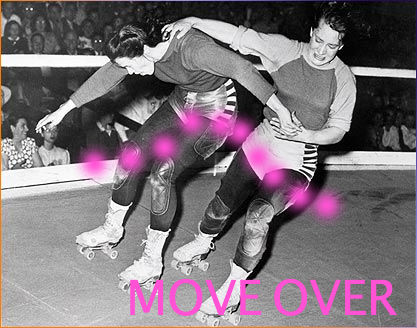 A Roller Rink Temptation
(1 M, 6W) a Feminine Dark Comedy with lots of cotton candy and fantasy sequences
A coming of age dark comedy romp about six girls at a lesbian roller rink struggling for love in a new and daunting world. Rootabega is super jewy and confused about her sexuality, but luckily one of the rink's employee's Lemonade is ready to show her around. Poppy is finally 16 and her and her BFF Clementine are super excited to celebrate; too bad a fat, scary, girly repressed secret threatens their friendship. Salmonella says she's "straight" but a chance encounter with an awkward butch artist named Bluebell complicates everything. LET's GET TEMPTEDDD!!!
Development: Bennington College, Powerhouse/NYSF apprentice company reading
Production: Workshop Production at New Orleans Fringe Fest (2014), Dare Tactic Theater-Equity Showcase.
I Love Avocado Toast!
(6 W) a girly play
When Cassie joins the all female exclusive social club, The Hive, she's ready for her boring female life to become way more glam and important! But in this new ultra hip feminist co-working space-things soon start to get weird!
Development: New Group Playwriting Workshop, Candy 4 Breakfast Collective, The Tank Lady Fest.
Self Help Me
(2W) a neurotic comedy
Jessa is a life coach. Jessa has sexy instagram pics of her pouting along with inspirational quotes that maybe almost make sense if you think about them hard enough. Cathy is a hot mess. Cathy can't even order a sandwich without slightly crying.
When Cathy starts using Jessa's services, they form an unexpected friendship that could maybe even save one of them…or both!
Development: Monson Arts Residency, Piper Theater